Funny that my very first post in this blog was titled "Just one more month..." and now it is already the one month anniversary of my return home. So I've been debating about what to do with this blog since it was obviously meant to just be for my year abroad. Of course I'm going to try to print it out for a keepsake/journal kind of thing, but it feels strange to stop writing in it. We had to blog as a requirement of UMD's Honor Program, but that's not the main reason I wrote so regularly. I'm so glad that I have something to look back on (besides my millions of photos, of course). I can't say for certain because I might throw in a few additional posts here and there, but I think this will be my last one. Might as well stop at an even 70. ;) Thank you to everyone who has kept up with this blog for motivating me to keep taking photos and writing about my experiences.
It's been pretty weird but, at the same time, completely normal being home. It's hard to wrap my mind around the past 10 months to really miss the experience as a whole, which is actually nice, but it's the little memory triggers that really get me. I can't tell you how much I miss my flat family, their extended families, my friends in my art classes, the wonderful group of Americans I traveled with, and the UMD faculty we spent so many hours with on a weekly basis.
I had a list of English words and phrases left over from a post I made a while back, so I'll finish that off now. Here is some terminology I miss hearing every day:
you alright?
nick (as in steal/borrow)
half-inch (pinch!)
footpath
shopping trolley
the que
cling film
proper
posh
faff
shoddy
pissed (as in drunk)
fag (as in cigarette)
trolleyed
to get on
carry on
give it a go
you lot
loo roll
hob
cooker
fairy liquid (dishsoap)
washing up
the lift
trainers
brollies
wellies
daddy longleg (what the call mayflies)
waistcoats
jumpers
braces
Mario (pronounced like "air")
touch wood
will do
and my very favourite... instead of "ding dong ditch" they say "knock door run"! Creative, huh?
(Thanks for that one, Gabes).
I still say things "wrong" now and then, but I can tell my speech is already becoming Americanized again. Some phrases have stuck for good, though, I'm sure.
SO! What have I been up to this past month? I think it will be easier to explain with photos (but I'll be sure to caption them). Here we go:
First off, my little brother, Jackson, graduated high school about a week after I returned. He'll be joining me at UMD in the fall!




Here he is following in his big sister's footsteps and making his valedictorian speech. So proud. =)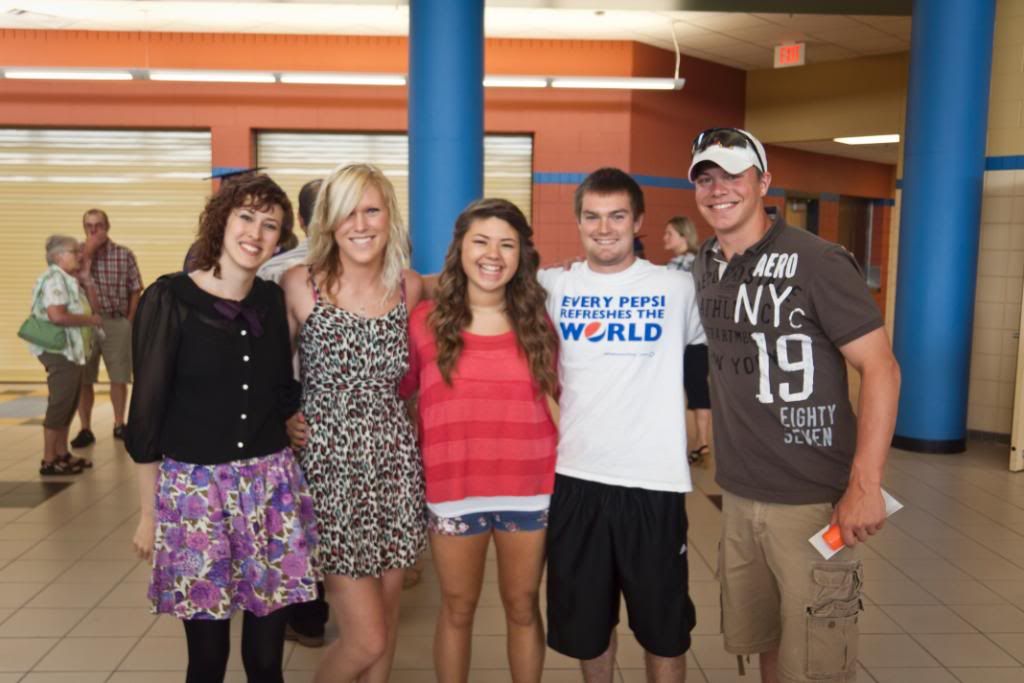 It was nice to see some old friends at the ceremony.
Missed these ladies so much! I've never been able to decide if they are more like my teachers, second mothers, sisters, role models, or best friends...so for now I'll have to say a wonderful mix of everything.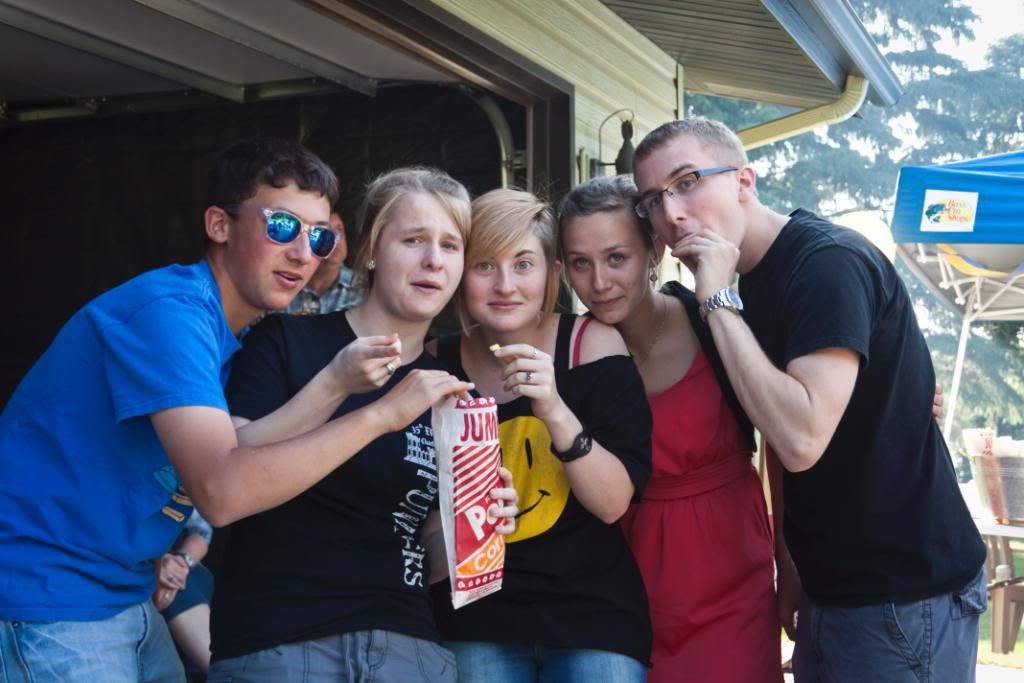 Friends and neighbors eying me up like I was a martian or something...
Some MORE confusing relationships! We may not be related by blood, but the Erdahl's are family. Plus it's almost like we planned our outfits. I mean seriously...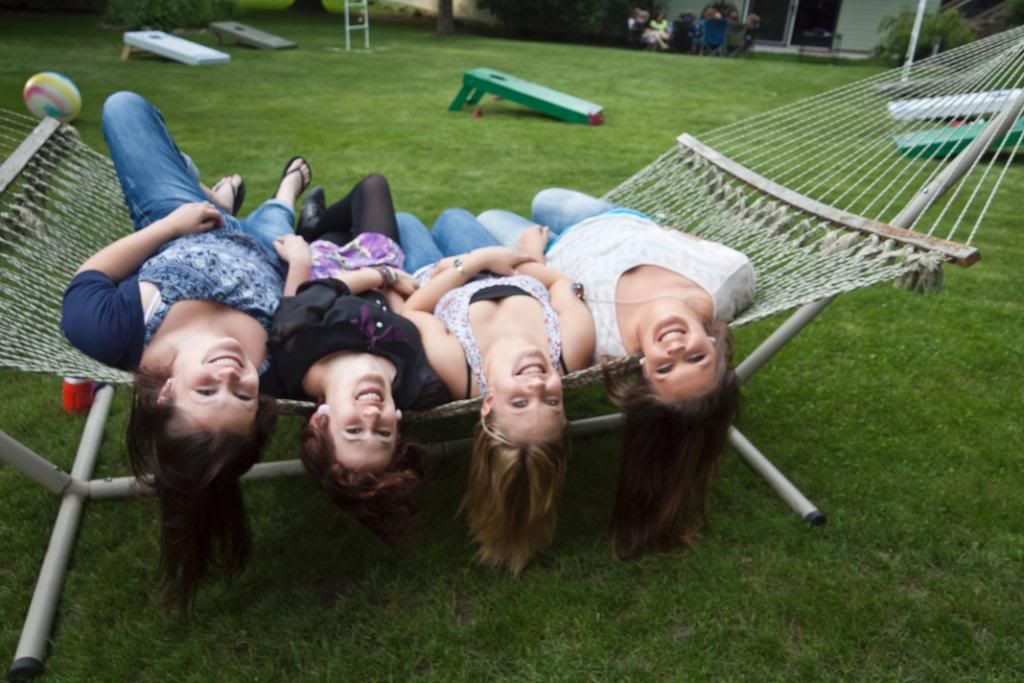 Cousin bonding in the hammock.
The grandkids with Grandma and Grandpa. I was so touched that my Grandma read my blog in such detail that she gave me a kettle as a "welcome home" present! She's the best. =)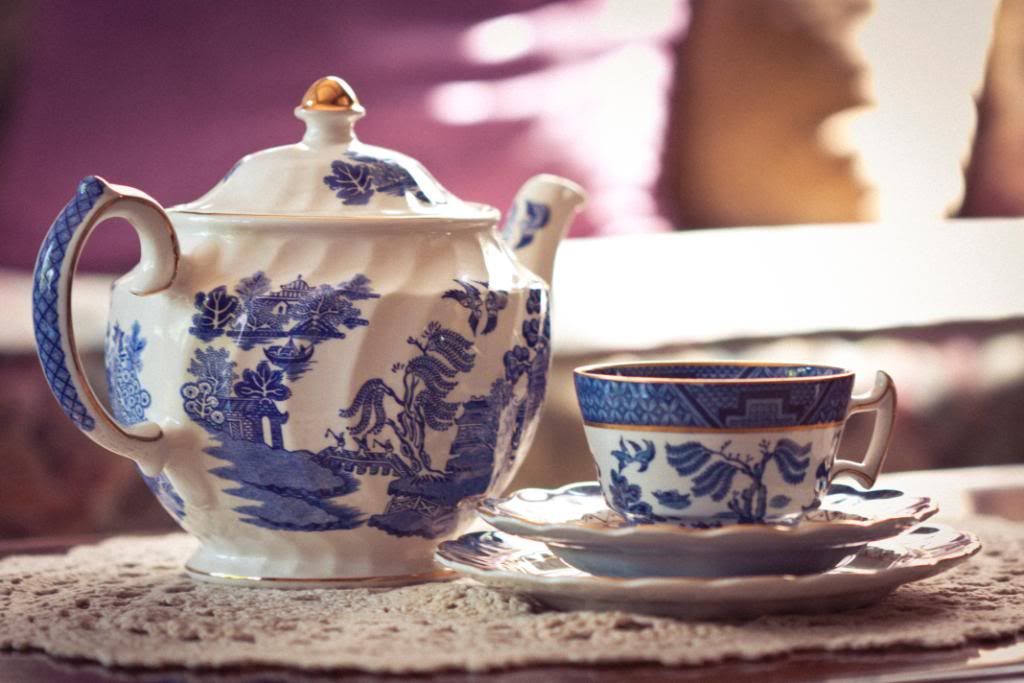 Another family friend even gave me a teapot to match my teacup I brought back from England (thanks again Connie)!
Enough from the grad party, my goodness... Time for my new house! This is the lovely 3-level beauty I will be living in with five other girls this semester. I have only just met three of them, but they all seem incredibly nice.
And rear-view.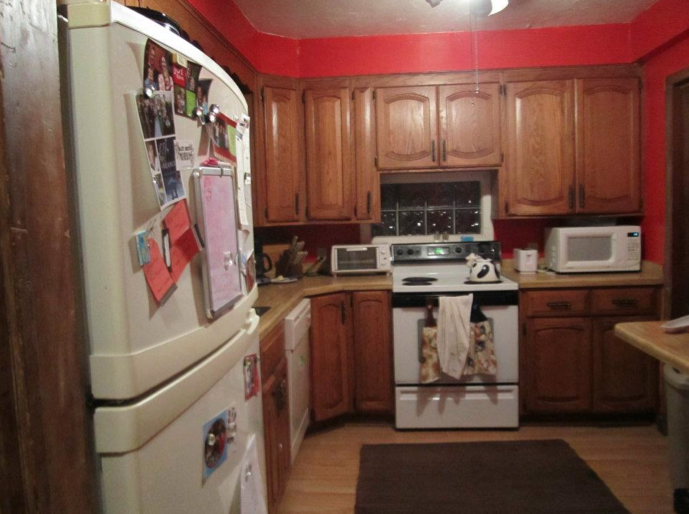 Kitchen!
My moving men, Jackson and Michael...eating pizza on the job, tsk tsk.
My tiny room prior to painting and furnishing (bear in mind that the green walls look much less horrifying in this photo than they did in person).
And after! I only got some basic pieces in the room (and shush, the cat vase IS basic), but it's a start.
Here's a Sims 3 mockup that I've been building off of. I know I'm a nerd.
So speaking of the Sims...I might have recreated my flat and roommates and taken a bunch of screenshots of them interacting with one another. Don't judge me. I also gave them fair warning that I was going to do this, hehehe...


Good one of Michael with Gabriel talking about him to Laura in the background.
Gabriel scaring Laura. I won't include the photo of them kissing five seconds later. He was all over Roisin, too! We also have Roisin in the background examining the microwave (probably saying how it's "positively mingin!")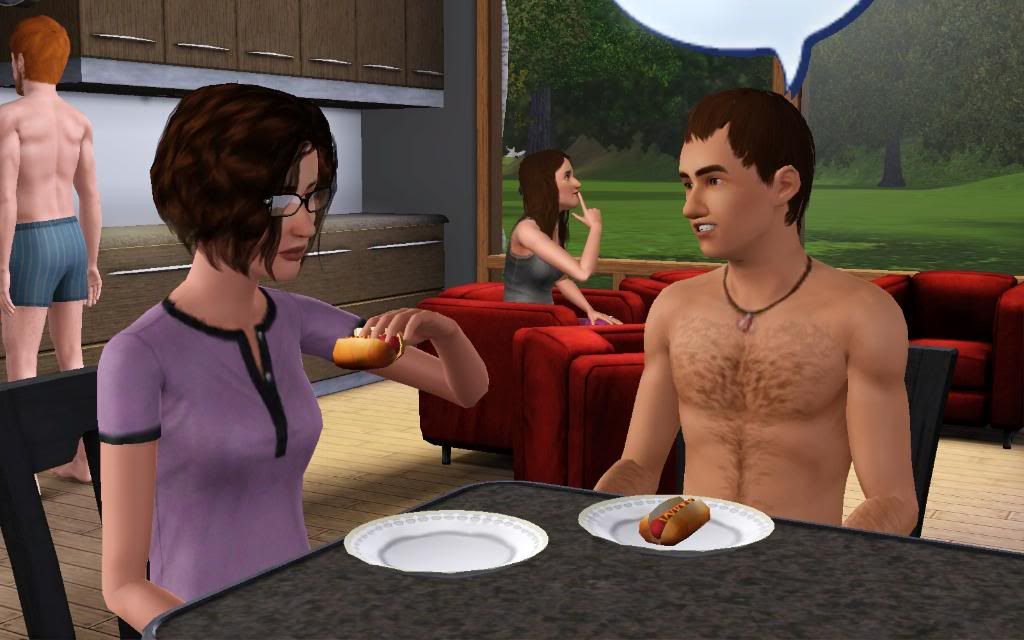 Eating with Gabriel...everyone seems to be in their jammies.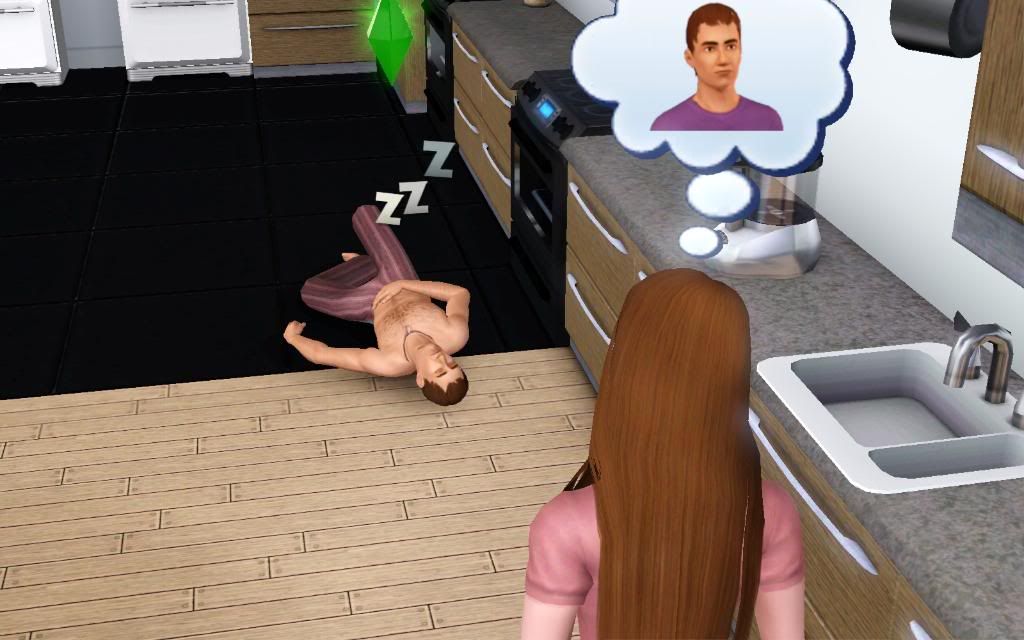 Roisin watching Gabriel sleep on the floor (he just fell over all of the sudden)!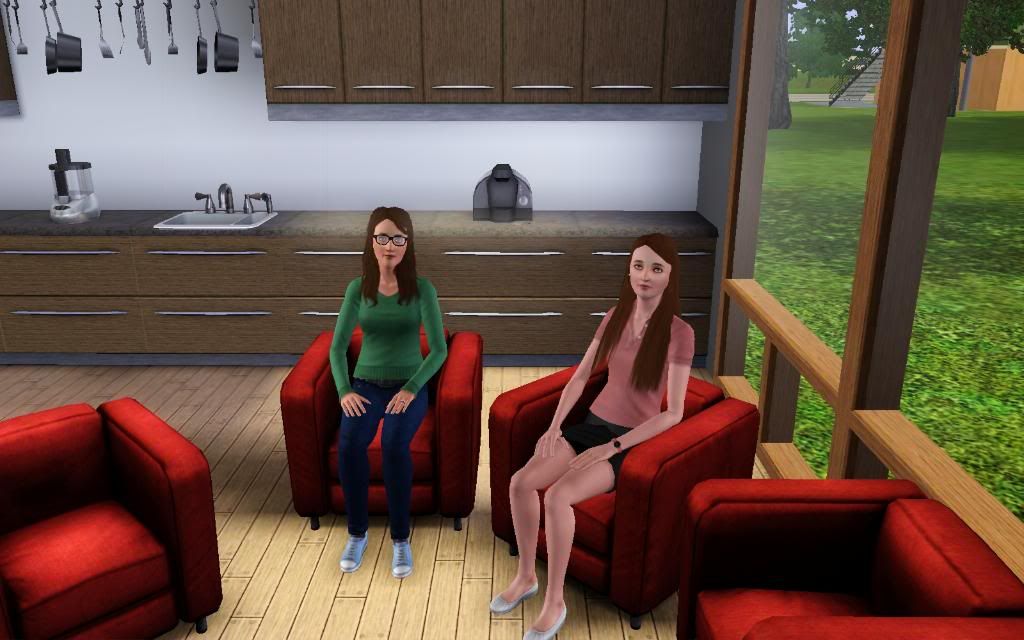 Thought this was a good one to show off the kitchen and my girlies!
And finally the bromance. Some things never change. ;)
Next came my cousin Kali's graduation party. It was nice to be all together again!
My mason jar candles! I've been doing a lot of crafting..
Tea and kittens with my neighbors, Kayla and Ava! (see the following photos for the "kittens" part)
So that's it for photos, but hopefully that's given you a taste of my life for the past month. I have also been working a bit, helping out with the community musical, visiting friends, packing up stuff for Duluth (not to mention finding out that the entire town flooded), having a garage sale, and spending a lot of time with my family. I'm hoping to move up to Duluth by August (that is, if I get the job in the international education office for which I applied)! I couldn't think of a better way to transition back to school in America and keep my experiences alive than to encourage others to study abroad.
Keep in touch. I'm always going to treasure the memories I have made this past year, but I suppose this is farewell to the "oversees" chapter of my life...for now. ;) I don't have to hope that I will return to England someday because I already know I will.
So now I'll be cheesy and leave you with this quote because... "this is my life. It is my one time to be me. I want to experience every good thing."
Cheers!